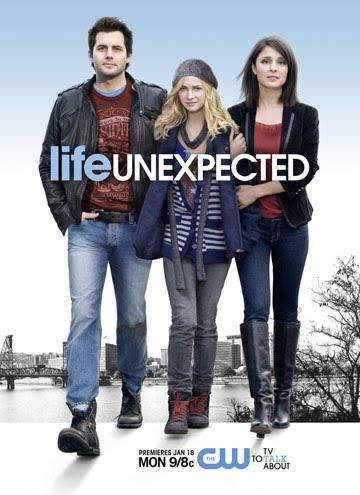 I thought I would try this show. It recorded last night, but I just now watched it. Wow! I think it has a lot of potential. The first episode is very good. I love the little girl named Lux. She kind of has my attitude I have adopted. Don't get your hopes up, and you won't be let down. It kind of leads to a cup half empty kind of life, but it sure beats the let down you get a lot. And then when something really does go right, it's flippin fantastic! So we have a few characters...
Lux-Played by Brittany Robertson
Cate Cassidy-Played by Shiri Appleby
Nate "Baze" Bazile-Played by Kristoffer Polaha
Ryan Thomas-Played by Kerr Smith (hot hot hot)
Lux is a 15 year old who has been stuck in the foster system since she was born. Normally people love to adopt babies, but Lux has a hole in her heart, so by the time she was done having surgeries, and she was all better...she was 3 years old, and no one wanted to adopt her. She has lived with 7 foster parents, and can't seem to find a family that is good. But her luck is changing. She will be 16 soon, and she wants to get herself emancipated from the foster care system. While trying to find out how she does this, she found out that it might take longer than she needs, so she takes the paper with her father's information on it from her case worker so she can get all the signatures she needs faster than the case worker will. On her journey she finds and meets her dad. Baze seems like the type of guy who kind of doesn't want to grow up. He took the inheritance from his father of a building, and opened a bar and lives above it. He parties all night, and sleeps all day. He is a major bachelor. Lux brings him down to earth, and introduces him to a life he wasn't sure he wanted, but he might like it now. Lux finds out her mother is none other than Cate Cassidy her favorite local radio show host. Cate is shocked to find out Lux hasn't been adopted, and after some thinking decides she wants to make it right with Lux. The judge denies Lux her emancipation request, but since the papers weren't signed right, her parents are still her legal guardians. The judge grants temporary custody to Lux's parents. Baze and Cassidy have a hot hookup again, after they have a fight with Lux, and Lux finds herself homeless after her foster mom kicks her out. Lux sleeps the night on the streets, and Cassidy finds her and takes her in. Cassidy and Baze and Cassidy's fiance Ryan Thomas decide to give her the life that no one else did.
I hope you like this show as much as I did!
XoXo-Andrea Carla